Mathematics Learning at WIS – Focus on Year 7 and MYP
Tuesday 10 November – 6pm
The Webinar will explain the philosophy behind teaching and learning mathematics at West Island School.  During the Webinar, recent tasks from the Year 7 MYP 1 curriculum will be used to demonstrate the practical applications of this philosophy and how students are challenged at all levels using "low-threshold, high ceiling" tasks and extension work.   The structure and format of MYP assessment will also be explained, and how the pathways of mathematics learning at WIS progress through to Y13.  There will be time for Questions and Answers.
Service at WIS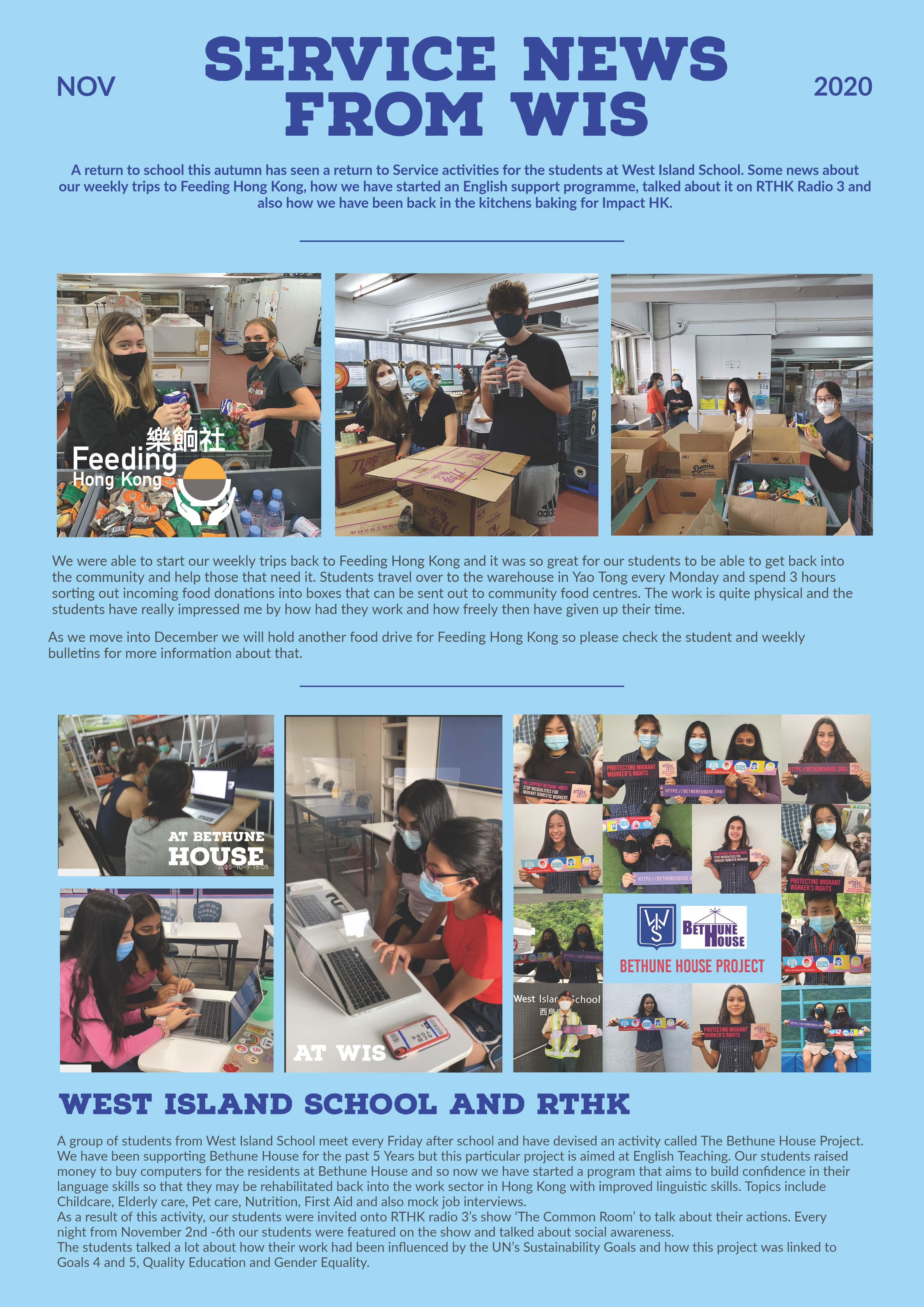 Message from Mrs Haworth for Year 9 – 12 Parents
Last term we were delighted to connect with you, through the questions and feedback you provided during our webinars which centered around children's well being, core skills and use of social media/online platforms.
I invite those of you interested to connect with us once again as we review our Years 9-12 drugs education programme. In order to develop a relevant programme we are keen to get parental feedback on what resources, advice and support you would be interested to see included in parent and student workshops surrounding substance misuse.
If you would like to  join me and some of our Well Being team for a discussion on what makes an effective drugs programme please email Ms Natasha Lee (natasha.lee@wis.edu.hk) to indicate your interest.
I will then be in touch with some suggested dates and times.
2019-2020 School Photos
School photos will take place on Tuesday 10 and Wednesday 11 November. Details and the final schedule have been sent out to students.
Visitors at School
Due to restrictions on site, visitors should make an appointment in advance before entering the school site. This also includes visits to the PTA as walk-ins are currently not permitted too. Please contact the relevant member of staff to make arrangements.
Uniform for Cooler Days
As we are in the cooler months, please pay attention to school rules with regards to correct uniform.
Students may wear the following:
1. Additional layers beneath your WIS shirt and not visible.
2. WIS branded jumper and/or a WIS branded fleece available from the PTA shop
3. WIS branded track jacket
4. Navy or black colour scarf
Students cannot wear:
1. Jumpers/fleeces or coats which have not been purchased from the PTA shop
2. Sports team, Horizons Week or leavers hoodies or tops other than the track jackets detailed above
Please click here to view more news from WIS including our Zoom Competition winners, upcoming WIS Parent Webinars and University Seminars….